G.W. Little's Summer Pet Catalog Now Live on Google Catalogs
SIMI VALLEY, CA--(
Marketwire
- Thursday, June 14, 2012) - G.W. Little has partnered with Google Catalogs to provide an online interactive pet catalog for tablet users featuring top designer Susan Lanci and new pet car restraints.
Click for full story...
Fun Dog Halloween Costumes – New for 2010
SIMI VALLEY, CA--(
Marketwire
- Tuesday, September 21, 2010) - New dog costumes for Halloween, 2010, revealed by G.W. Little. "This year's new styles are better than ever," says owner Angela Grieco. "We've had so much fun finding the right dog models to match the costumes for our photography and videos.
Click for full story...
Slumping Economy Can't Curb the Enthusiasm of Dog Owners' Thirst for Quality pet Products
SIMI VALLEY, CA--(Marketwire - July 29, 2009) - Dog owners may be foregoing fancy vacations, new homes, cars, and other durable goods, but when it comes to taking care of their four-legged friends they continue to splurge. Family owned and operated catalog and Internet pet supply company, G.W. Little, reports strong sales despite the poor economic conditions.
Click for full story...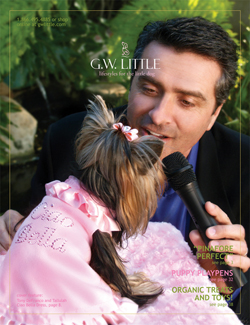 Tony DeFranco Graces Cover of GW Little Catalog
THOUSAND OAKS, CA (PRWEB June 21, 2006) 70's Teen Idol, Tony DeFranco, known for his "lost teen idol" hits "Heartbeat, Its a Lovebeat" and "Save the Last Dance for Me" strikes a playful pose with Tallulah, his Yorkshire Terrier for the summer G.W. Little catalog shoot, on location in Westlake Village, CA.
Click for full story...
Road Test: Safe Rides for Passenger Pups
The Washington Post, June 29, 2007 - After two months of being hauled around town and across the country testing out dog seats, harnesses and even goggles, Darwin the beagle is, frankly, so over road trips for now. While the pooch played guinea pig, we learned that there are two categories of dog products for your car: those that take care of your dog and those that take care of your auto.
Click for full story...